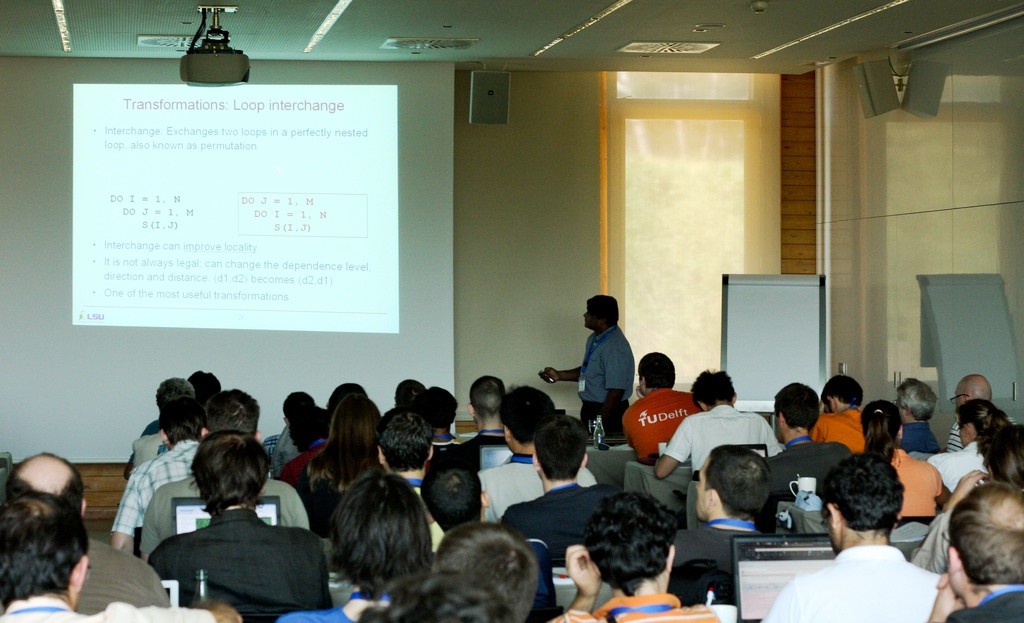 J. (Ram) Ramanujam
John E. and Beatrice L. Ritter Distinguished Professor
Teaching - Spring 2014 EE 4702: High-Level Synthesis and Embedded Systems

<!img src="jxr_files/new.gif" width="32"> Course Offerings: Louisiana State University (LSU)

WOLFHPC: Workshop on Domain-Specific Languages and High-Level Frameworks for High-Performance Computing (at SC13), Denver, CO, November 18, 2013.

IMPACT 2014 -- 4th International Workshop on Polyhedral Compilation Techniques (part of HiPEAC 2014), Vienna, Austria, January 20, 2014.
Compiler optimizations for high performance computers: GPUs, multicore, accelerators.
Embedded systems: compilers, design, processors
Parallel computing: architecture, algorithms, software
Computer architecture
Compilers, operating systems and architectures for low power
Hardware synthesis and optimization: behavioral-level, logic-level
PLUTO - An automatic parallelizer and locality optimizer for multicores Download PLUTO

CUDA version of PLUTO: Download Pluto 0.6.2-CUDA (BETA)

PTile -- A parallel parametric tiling software for imperfectly nested loops PTile website (See download details there in)

PrimeTile -- A parametric multi-level tiler for imperfect loop nests
h-index: 39. i10-index: 99. g-index: 64.

Google Scholar Citations (J. Ramanujam)

Recent Publications (most in pdf)

Full List of Publications (some pdf included)

Publications (from Google Scholar)

Recent Articles (from Google Scholar)

Publications (from the new DBLP)

Selected Recent Publications

K. Stock, M. Kong, L.-N. Pouchet, F. Rastello, J. Ramanujam, and P. Sadayappan, "A Framework for Enhancing Data Reuse via Associative Reordering," in Proc. 35th ACM SIGPLAN Conference on Programming Language Design and Implementation (PLDI 2014), Edinburgh, U.K., June 2014.
M.M. Strout, F. Luporini, C.D. Krieger, C. Bertolli, G.-T. Bercea, C. Olschanowsky, J. Ramanujam, and P.H.J. Kelly, "Generalizing Run-time Tiling with the Loop Chain Abstraction," in Proc. 28th IEEE International Parallel and Distributed Processing Symposium (IPDPS 2014), Phoenix, AZ, May 2014.
N. Fauzia, V. Elango, M. Ravishankar, L.-N. Pouchet, J. Ramanujam, F. Rastello, A. Rountev, and P. Sadayappan, "A Framework for Enhancing Data Reuse via Associative Reordering," ACM Transactions on Architecture and Code Optimization (TACO), vol. 10, no. 4, pages 53:1-53:29, December 2013. Also in HiPEAC 2014, Vienna, Austria, January 2014.
S. Tavarageri, J. Ramanujam, and P. Sadayappan, "Adaptive Parallel Tiled Code Generation and Accelerated Auto-tuning," International Journal of High Performance Computing Applications, vol. 27, no. 4, pages 412-425, November 2013.
A. Konstantinidis, P. Kelly, P. Sadayappan and J. Ramanujam, "Parametric GPU Code Generation for Static Control Programs," in Proc. 26th International Workshop on Languages and Compilers for Parallel Computing (LCPC 2013), San Jose, CA, September 2013.
T. Henretty, J. Holewinski, R. Veras, F. Franchetti, L.N. Pouchet, J. Ramanujam, A. Rountev and P. Sadayappan, " A Domain-Specific Language and Compiler for Stencil Computations on Short-Vector SIMD and GPU Architectures," in Proc. 17th Workshop on Compilers for Parallel Computing (CPC 2013), Lyon, France, July 2013.
T. Henretty, R. Veras, F. Franchetti, L.N. Pouchet, J. Ramanujam and P. Sadayappan, "A Stencil Compiler for Short-Vector SIMD Architectures," in Proc. 27th ACM International Conference on Supercomputing, Eugene, OR, June 2013.
A. Cohen, T. Grosser, P. Kelly, J. Ramanujam, P. Sadayappan, and S. Verdoolaege, "Tiling for GPUs: Automatic Parallelization Using Trapezoidal Tiles to Reconcile Parallelism and Locality, Avoiding Divergence and Load Imbalance," in Proc. 6th Workshop on General Purpose Processing Using GPUs (GPGPU-6), Houston, TX, held with ASPLOS-13, March 2013.
Z. Yun, Z. Lei, G. Allen, D. Katz, and J. Ramanujam, "DA-TC: A Novel Application Execution Model in Multi-Cluster Systems," in Cluster Computing, 2013.
K.-M. Tam, H. Fotso, S.-X. Yang, T.-W. Lee, J. Moreno, J. Ramanujam and M. Jarrell, "Solving the Parquet Equations for the Hubbard Model beyond Weak Coupling," arXiv:1108.4926 Physical Review E, 2013.
M. Ravishankar, J. Eisenlohr, L.-N. Pouchet, J. Ramanujam, A. Rountev and P. Sadayappan, "Code Generation for Parallel Execution of a Class of Irregular Loops on Distributed Memory Systems," in Proc. ACM/IEEE Conference on High Performance Computing SC12, Salt Lake City, UT, November 2012.
J. Shirako, K. Sharma, N. Fauzia, L.-N. Pouchet, J. Ramanujam, P. Sadayappan and V. Sarkar, "Analytical Bounds for Optimal Tile Size Selection," in CC 2012 - International Conference on Compiler Construction, (M. O'Boyle Ed.), Lecture Notes in Computer Science, Springer-Verlag, 2012.
H. Salamy and J. Ramanujam, "An Effective Solution to Task Scheduling and Memory Partitioning for Multi-Processor System-on-Chip," in IEEE Transactions on Computer-Aided Design of Integrated Circuits and Systems, 2012.

H. Salamy and J. Ramanujam, "An ILP Solution to Address Code Generation for Embedded Applications on Digital Signal Processors," in ACM Transactions on Design Automation of Electronic Systems, 2012.
H. Salamy and J. Ramanujam, "Storage Optimization through Offset Assignment with Variable Coalescing," in ACM Transactions on Embedded Computing Systems, 2012.

H. Salamy and J. Ramanujam, "Code Size Reduction for Array Intensive Applications on Digital Signal Processors," in Journal of Circuits, Systems, and Computers, 2012.

Q. Lu, X. Gao, S. Krishnamoorthy, G. Baumgartner, J. Ramanujam and P. Sadayappan, "Empirical Performance Model-Driven Data Layout Optimization and Library Call Selection for Tensor Contraction Expressions," in Journal of Parallel and Distributed Computing, 72(3):338-352, March 2012.

<!img src="jxr_files/new.gif" width="32"> S. Tavarageri, L.-N. Pouchet, J. Ramanujam, A. Rountev and P. Sadayappan, "Dynamic Selection of Tile Sizes," in 18th Annual International Conference on High Performance Computing (HiPC 2011), Bangalore, India, December 2011.

<!img src="jxr_files/new.gif" width="32"> T. Henretty, K. Stock, L.-N. Pouchet, F. Franchetti, J. Ramanujam and P. Sadayappan, "Data Layout Transformation for Stencil Computations on Short-Vector SIMD Architectures," in International Conference on Compiler Construction (CC'2011), Saarbrucken, Germany, March 2011.

<!img src="jxr_files/new.gif" width="32"> L.-N. Pouchet, U. Bondhugula, C. Bastoul, A. Cohen, J. Ramanujam, P. Sadayappan and N. Vasilache, "Loop Transformations: Convexity, Pruning and Optimization," in Proc. Symposium on Principles of Programming Languages (POPL 11), Austin, TX, January 2011.
<!img src="jxr_files/new.gif" width="32"> <!img src="jxr_files/new.gif" width="32"> L.-N. Pouchet, U. Bondhugula, C. Bastoul, A. Cohen, J. Ramanujam and P. Sadayappan, "Combined Iterative and Model-driven Optimization in an Automatic Parallelization Framework," in Proc. ACM/IEEE Conference on High Performance Computing SC10, New Orleans, LA, November 2010.

<!img src="jxr_files/new.gif" width="32"> <!img src="jxr_files/new.gif" width="32"> M. Baskaran, A. Hartono, S. Tavarageri, T. Henretty, J. Ramanujam, and P. Sadayappan, "Parameterized Tiling Revisited," International Symposium on Code Generation and Optimization (CGO), Toronto, Canada, April 2010.

<!img src="jxr_files/new.gif" width="32"> <!img src="jxr_files/new.gif" width="32"> M. Baskaran, J. Ramanujam, and P. Sadayappan, "Automatic C-to-CUDA Code Generation for Affine Programs," International Conference on Compiler Construction (CC), Paphos, Cyprus, March 2010.

Q. Lu, C. Alias, U. Bondhugula, T. Henretty, S. Krishnamoorthy, J. Ramanujam, A. Rountev, P. Sadayappan, Y. Chen, H. Lin, T. Ngai, "Data Layout Transformation for Enhancing Data Locality on NUCA Chip Multiprocessors," Proc. Intl. Conf. on Parallel Architectures and Compilation Techniques (PACT), Raleigh, NC, September 2009.

A. Hartono, M. Baskaran, C. Bastoul, A. Cohen, S. Krishnamoorthy, B. Norris, J. Ramanujam, and P. Sadayappan, "Parametric multi-level tiling of imperfectly nested loops," ACM International Conference on Supercomputing (ICS), New York, NY, June 2009.

M. Baskaran, N. Vydhyanathan, U. Bondhugula, J. Ramanujam, A. Rountev, and P. Sadayappan, "Compiler-Assisted Dynamic Scheduling for Effective Parallelization of Loop Nests on Multicore Processors," in Proc. 14th ACM SIGPLAN Symposium on Principles and Practice of Parallel Programming (PPoPP 2009), Raleigh, NC, February 2009.

A. Hartono, Q. Lu, T. Henretty, S. Krishnamoorthy, H. Zhang, G. Baumgartner, D. E. Bernholdt, M. Nooijen, R. Pitzer, J. Ramanujam, and P. Sadayappan, "Performance Optimization of Tensor Contraction Expressions for Many-Body Methods in Quantum Chemistry," The Journal of Physical Chemistry A, Vol. 113 (45), pp. 12715-12723, 2009.

Hassan Salamy and J. Ramanujam, "A Framework for Task Scheduling and Memory Partitioning for Multi-Processor System-on-Chip," in Proc. 4th International Conference on High Performance and Embedded Architectures and Compilers (HiPEAC 2009), Paphos, Cyprus, January 2009.

M. Baskaran, U. Bondhugula, J. Ramanujam, A. Rountev, and P. Sadayappan, "A compiler framework for optimization of affine loop nests for GPGPUs," ACM International Conference on Supercomputing (ICS), June 2008.

U. Bondhugula, A. Hartono, J. Ramanujam, and P. Sadayappan, "PLUTO: A Practical and Fully Automatic Polyhedral Program Optimization System," Proc. ACM SIGPLAN 2008 Conference on Programming Language Design and Implementation (PLDI 08), Tucson, AZ, June 2008.

U. Bondhugula, M. Baskaran, S. Krishnamoorthy, J. Ramanujam, A. Rountev, and P. Sadayappan, "Automatic Transformations for Communication-Minimized Parallelization and Locality Optimization in the Polyhedral Model," in Proc. CC 2008 - International Conference on Compiler Construction, March-April 2008.

M. Baskaran, U. Bondhugula, S. Krishnamoorthy, J. Ramanujam, A. Rountev and P. Sadayappan, "Automatic Data Movement and Computation Mapping for Multi-level Parallel Architectures with Explicitly Managed Memories," in Proc. 13th ACM SIGPLAN Symposium on Principles and Practice of Parallel Programming, (PPoPP 2008), Salt Lake City, UT, February 2008.

H. Salamy and J. Ramanujam, "Optimal Address Register Allocation for Arrays in DSP Applications," in Proc. 6th IEEE Workshop on Embedded Systems for Real-Time Multimedia (ESTIMedia 2008), pp. 67–72, Atlanta, GA, October 2008.

H. Salamy and J. Ramanujam, "Storage Optimization through Code Size Reduction for Digital Signal Processors," in Proc. 6th IEEE Workshop on Embedded Systems for Real-Time Multimedia (ESTIMedia 2008), pp. 107–112, Atlanta, GA, October 2008.
J. Hong and J. Ramanujam, "Scheduling DAGs for Fixed-point DSP Processors by Using Worm Partitions," in Proc. 2008 International Conference on Embedded Systems and Software (ICESS-08), pp. 567–574, Chengdu, China, July 2008.

S. Krishnamoorthy, M. Baskaran, U. Bondhugula, J. Ramanujam, A. Rountev and P. Sadayappan, "Effective Automatic Parallelization of Stencil Computations," in Proc. ACM SIGPLAN 2007 Conference on Programming Language Design and Implementation (PLDI 07), San Diego, CA, June 2007.

U. Bondhugula, J. Ramanujam, and P. Sadayappan, "Automatic Mapping of Nested Loops to FPGAs," in Proc. ACM SIGPLAN 2007 Symposium on Principles and Practice of Parallel Programming (PPoPP 07), San Jose, CA, March 2007.

J. Ramanujam, J. Hong, M. Kandemir, A. Narayan, and A. Agarwal, "Estimating and Reducing the Memory Requirements of Signal Processing Codes for Embedded Processor Systems," IEEE Transactions on Signal Processing, vol. 54, no. 1, pp. 286--294, January 2006.

G. Baumgartner, A. Auer, D. Bernholdt, A. Bibireata, V. Choppella, D. Cociorva, X. Gao, R. Harrison, S. Hirata, S. Krishnamoorthy, S. Krishnan, C. Lam, Q. Lu, M. Nooijen, R. Pitzer, J. Ramanujam, P. Sadayappan, and A. Sibiryakov, "Synthesis of High-Performance Parallel Programs for a Class of ab initio Quantum Chemistry Models," Proceedings of the IEEE, vol. 93, no. 2, pp. 276-292, February 2005.

X. Gao, S. Sahoo, Q. Lu, G. Baumgartner, C. Lam, J. Ramanujam, and P. Sadayappan, "Performance Modeling and Optimization of Parallel Out-of-Core Tensor Contractions," in Proc. ACM SIGPLAN 2005 Symposium on Principles and Practice of Parallel Programming, Chicago, IL, June 2005.

S. Krishnan, S. Krishnamoorthy, G. Baumgartner, C. Lam, J. Ramanujam, P. Sadayappan, and V. Choppella, "Efficient Synthesis of Out-of-Core Algorithms Using a Nonlinear Optimization Solver," Journal of Parallel and Distributed Computing, vol. 66, no. 5, pp. 659-673, May 2006. An ealier version appears as: S. Krishnan, S. Krishnamoorthy, G. Baumgartner, C.-C. Lam, J. Ramanujam, and P. Sadayappan, "Efficient Synthesis of Out-of-core Algorithms Using a Nonlinear Optimization Solver," In Proceedings of the 18th International Parallel and Distributed Processing Symposium (2004 IPDPS Conference), April 2004. (Best Paper Award)

LSU Rainmaker, 2008; 2009.

Ritter Distinguished Professor of Electrical Engineering, 2005-present.

Best Paper Award (Applications Track) for "Efficient Synthesis of Out-of-core Algorithms Using a Nonlinear Optimization Solver," (authors: S. Krishnan, S. Krishnamoorthy, G. Baumgartner, C. Lam, J. Ramanujam, and P. Sadayappan) at the 18th International Parallel and Distributed Processing Symposium (2004 IPDPS Conference), Santa Fe, April 2004.

Best Paper Award (Systems) for "Data Locality Optimization for Synthesis of Efficient Out-of-Core Algorithms," (authors: S. Krishnan, S. Krishnamoorthy, G. Baumgartner, D. Cociorva, C. Lam, P. Sadayappan, J. Ramanujam, D. Bernholdt, and V. Choppella) at the International Conference on High Performance Computing (HiPC 03), December 2003.

Distinguished Visitor, IEEE Computer Society, 2001-2003.

NSF Young Investigator Award, 1994.

Sahar Navaz
Mohammad Rastegar Tohid

WOLFHPC: Workshop on Domain-Specific Languages and High-Level Frameworks for High-Performance Computing (at SC13), Full-Day Workshop at SC13, Denver, CO, November 2013

WOLFHPC: Workshop on Domain-Specific Languages and High-Level Frameworks for High-Performance Computing (at SC12), Workshop at SC12, Salt Lake City, UT, November 16, 2012;&nbsp Program

PPoPP 2012: 17th ACM SIGPLAN Symposium on Principles and Practice of Parallel Programming, February 25-29, 2012, New Orleans, LA, USA (co-located with HPCA-18). Submissions site: https://www.softconf.com/c/ppopp2012/

Tutorials and Workshops:

Programming Models and Compiler Optimizations for GPUs and Multicores, (with P. Sadayappan), half-day tutorial at 2014 International Symposium on Code Generation and Optimization Orlando, FL, February 2014.

<!img src="jxr_files/new.gif" width="32"> Programming Models and Compiler Optimizations for GPUs and Multicores, (with P. Sadayappan), half-day tutorial at 9th HiPEAC Conference Vienna, Austria, January 2014.

<!img src="jxr_files/new.gif" width="32"> Programming Models and Compiler Optimizations for GPUs and Multicores, (with P. Sadayappan), half-day tutorial at International Conference Supercomputing (ICS 2013) Eugene, Oregon, June 2013.

<!img src="jxr_files/new.gif" width="32"> Programming Models and Optimizations for GPUs and Multicores, (with P. Sadayappan), half-day tutorial at The 21st International Conference on Parallel Architectures and Compilation Techniques (PACT-2012), Minneapolis, MN, September 2012.

<!img src="jxr_files/new.gif" width="32"> Multicore Processors and GPUs: Programming Models and Compiler Optimizations, half-day tutorial (with P. Sadayappan) at 2012 International Symposium on Code Generation and Optimization (CGO), April 1, 2012 (PM session), San Jose, CA, USA.
<!img src="jxr_files/new.gif" width="32"> Multicore Processors and GPUs: Programming Models and Compiler Optimizations, half-day tutorial (with P. Sadayappan) at 20th International Conference on Parallel Architectures and Compilation Techniques (PACT), October 14, 2011, Galveston Island, TX, USA.
GPUs and General-Purpose Multicores: Programming Models, Compiler Optimization and Tuning, half-day tutorial (with P. Sadayappan) at 25th International Conference on Supercomputing, June 4, 2011, Tucson, Arizona, USA
WOLFHPC: Workshop on Domain-Specific Languages and High-Level Frameworks for High-Performance Computing, workshop (co-organized with Sriram Krishnamoorthy and P. Sadayappan) at 25th International Conference on Supercomputing, May 31, 2011, Tucson, Arizona, USA
GPU Programming Models, Optimizations and Tuning, half-day tutorial (with P. Sadayappan) at The International Symposium on Code Generation and Optimization, CGO 2011, April 2, 2011, Chamonix, France

Summer Schools:
Spring 2014: EE 4702: High-Level Synthesis and Embedded Systems




Spring 2014: EE 4702: High-Level Synthesis and Embedded Systems
Fall 2013: EE 7700: Program Optimization Using Polyhedral Models
Spring 2013: EE 7785: Parallelizing Compilers
Fall 2012: EE 4702: High-Level Synthesis and Embedded Systems
Spring 2012: EE 4702: Software Optimizations
Fall 2011: EE 7700: Performance Optimization of Applications on GPUs (PDF)
Spring 2011: EE 7780: Software Design Principles
Fall 2010: EE 7785: Compiler Optimizations
Spring 2010: EE 4702: High-Level Synthesis
Fall 2009: EE 7000: Software Optimizations for Multicore
Spring 2009: EE 4760: Introduction to Compiler Optimizations
Fall 2008: EE 7785: Compiler Optimizations
Spring 2008: EE 4702: High-Level Synthesis & Embedded Systems
Fall 2007: EE 7785: Compiler Optimizations
Spring 2007: EE 4760: Introduction to Compiler Optimizations
Fall 2006: EE 7000: Embedded Systems
Spring 2006: EE 7000: High-Level Synthesis
Fall 2005: EE 7785: Compiler Optimizations
Spring 2005: EE 4760: Introduction to Compiler Optimizations
Fall 2004: EE 7700: Architectures & Algorithms for Digital Signal Processing (DSP)
Spring 2004: EE 7700: Energy Aware Computing Systems
Fall 2003: EE 4702: High Level Synthesis

Fall 2003: EE 7700-1: Compiler Optimizations

Spring 2003: EE 7700: Embedded Systems