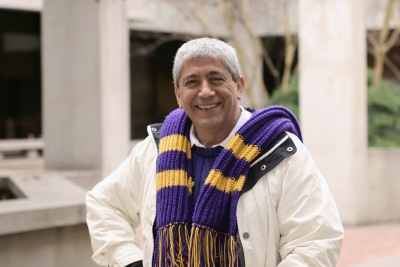 Greetings and welcome to the ECE alumni website. Our alumni form a top-quality group with more than 5,500 members, all of whom are proud of their LSU degree and have every reason to feel that way. As our alumni shape and influence scholarship and research in their respective fields, we, the ECE faculty and staff, remain committed to maintaining the excellence of the Department and keeping our program on the leading edge of the evolving technical world.
This website is only one of the ways by which we demonstrate our commitment to the goal of developing lifelong connections with our alumni and establishing a vibrant and productive network of ECE graduates around the world. Information about our current students and their accomplishments in and out of the classroom is among the many interesting resources you will find here. Also available are updates on how our faculty continues to expand the boundaries of knowledge with their research and how they explore new ways to enhance the educational experience of our students.
Please join this evolving effort by telling us where you are and what you are doing. You can also keep abreast of the exciting things we are doing through our newsletters and website. The ECE Department website includes details about our faculty, student organizations and activities, publications, and other useful information.
Financial support from our friends is already making a positive impact in the quality of service to our students. With your help, the Department can maintain its rightful place among the best in the land. Learn about the FOREVER LSU Campaign and the ways in which you can become involved. Along with your personal involvement, donations are an important part of our program resources. The contribution page will guide you through the process of making a financial gift or developing an innovative award idea.
Again, welcome to the alumni network and I look forward to your continued participation in, and support of, the ECE family.
Sincerely,
Jorge Aravena,
Oskar Menton Professor Interim Chairman