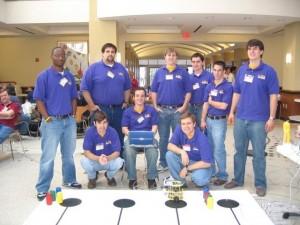 The Robotics Club is involved in the design and construction of a fully-autonomous robot to compete in the annual IEEE robotics competition. The competition is held at a different Region 5 university each year. Information on the conference may be found http://www.r5conferences.org.
Interested in Joining?
If you are interested in joining the competition team or simply learning how the hardware works, just show up to a meeting and we will add your name to our contact list. We will try and arrange meeting times to fit everyone's schedules, so the earlier you introduce yourself, the earlier we can take your schedule into account.
No prior experience is required, but it is highly recommended that the applicant have experience with circuit design and programming (C, C++, Java). For those who have no prior experience please contact us as soon as possible so that we will have time to offer training.
Competition Rules
Here are a few links containing information about this year's competition:
Design rules
FAQ about design rules
Team Meetings
Check the IEEE calendar for meeting times. There will typically be a bi-weekly meeting for the entire team, and weekly meetings for individual groups.