San Diego Couple's Legacy to Impact Generations of LSU Students
1 October 2010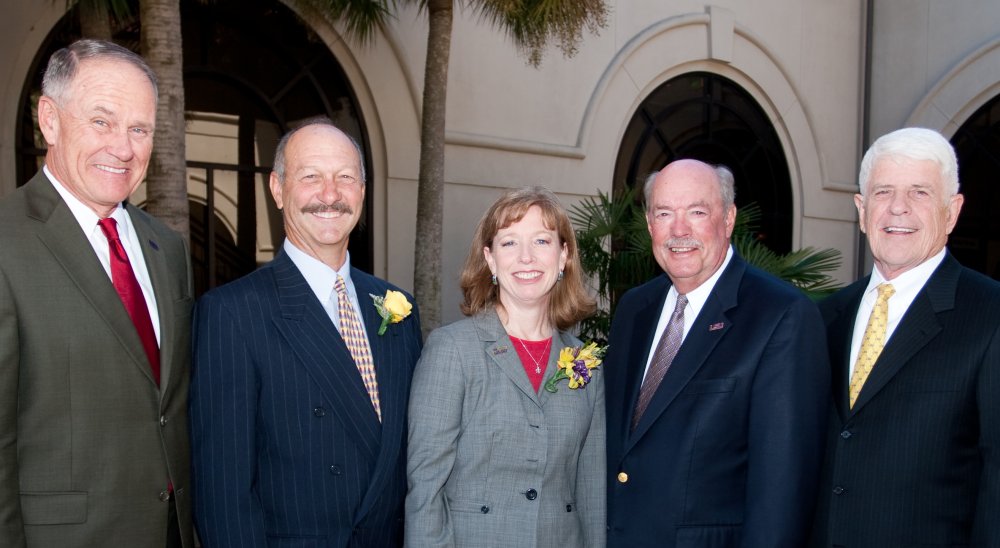 San Diego residents Karen and Bill Brack (center of photo) have made an estate commitment to the LSU Alumni Association and the LSU Foundation to benefit the Department of Electrical and Computer Engineering. Through the establishment of their legacy gift, the Bracks have become the newest members of The 1860 Society, LSU's premier organization for recognizing supporters who include the University in their estate plans. For their gift, the Bracks will also be inducted into the College of Engineering Society for Engineering Excellence (SEE). In the photo the Bracks are the second and third from the left; leftmost is Maj. Gen. William G. Bowdon, president and CEO of the LSU Foundation, fourth from the left is LSU Chancellor Michael Martin followed by Charlie Roberts, president and CEO of the LSU Alumni Association.
"We wanted to give back to our alma maters. Our extended families are well provided for, so we wanted to create the opportunity for deserving students to have the same opportunity for a college education that we were afforded," said the Bracks. Karen is an LSU electrical engineering alumna, and Bill is a finance alumnus of San Diego State University. They have established legacy gifts for both LSU and SDSU.
Karen's parents, both LSU graduates, grew up in New Orleans. Karen completed her bachelor's degree at LSU in 1984 and earned a master's degree, also in electrical engineering, from the University of California, Irvine in 1988. Since 1998, she has worked for Honeywell, a Fortune 500 company, and is currently an ASIC (Application-Specific Integrated Circuit) staff engineer. She has been the project leader for the development of programmable, electronic hardware components for commercial avionics. One of her most recently completed projects was the Flight Control Electronics for the Boeing 787 Dreamliner.
Karen currently serves as the chair of the ECE Department's Forever LSU Campaign Steering Committee. She is a member of the ECE Advisory Board and has participated in ECE Program Evaluation & Assessment Committee meetings, providing valuable input and challenging board members to join her in participating in the Forever LSU Campaign.
In 2008, she was one of four alumni who returned to LSU to serve as panelists at the University's "Champions in their Field" Homecoming academic event, where she discussed LSU's role in preparing her for a career as an engineer in aerospace, her favorite professors and mentors, and her most cherished LSU memory.
Karen has served as a guest lecturer for the ECE Capstone Design Program, as well as for LSU's Introduction into Engineering class. She also met with freshmen in the Engineering Residential College. She is an active member of the LSU Alumni Association's San Diego chapter, having recently served as secretary and president. The San Diego chapter holds an annual crawfish boil that is one of the largest on record.
Bill served as vice president/branch manager with Charles Schwab and retired following a 24-year career with the company. Bill completed his bachelor's degree in finance at San Diego State University in 1976 and earned his Certified Financial Planner (CFP) License in 2003. He was the first member of his family to graduate from college. Bill is a board member of the Aztec Club, San Diego State's athletic foundation and is a member of the San Diego State Alumni Association.
"We both feel like our college education gave us the opportunity to have fulfilling careers," said the Bracks.
The couple enjoys attending sporting events, LSU and San Diego State being their favorites.
"On behalf of the LSU engineering students, faculty and staff, I extend our deepest appreciation to Bill and Karen Brack for their commitment to advancing engineering excellence at LSU. Karen is a true example of the 'LSU Engineer' and epitomizes all of the strengths and core attributes for which our graduates are known: strong work ethic, globally aware, critical thinker, and leadership qualities. Through their generous estate commitment, Bill and Karen have dedicated themselves to transforming the lives of our future engineers," said Dean Rick Koubek, College of Engineering.
Support for the Department of Electrical & Computer Engineering, like that shown by Karen and Bill Brack, advances the goals of the Forever LSU campaign. Forever LSU is a historic effort by the LSU community to attain more than $750 million in support for LSU by the end of 2010. To find out how you can join the campaign for LSU's future, visit www.foreverlsu.org.