Jorge L. Aravena
1945-2010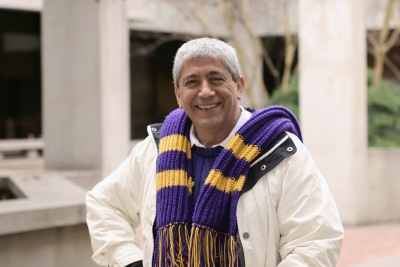 Jorge L. Aravena, Ph.D., passed away Friday, September 17, 2010 at Our Lady of the Lake Regional Medical Center in Baton Rouge, LA. Dr. Aravena was an LSU professor in the Department of Electrical and Computer Engineering (ECE) since 1984, Interim Chair of the ECE Department from June 2008 to June 2010, and Chair of the ECE Department from July 2010 until his death. He was also an incredibly supportive father, an inspirational mentor and advisor, and a loving and devoted husband. Dr. Aravena is survived by his wife of 43 years, Joyce Cuartas Aravena, daughter Pamela LeJeune, son-in-law Larry LeJeune, daughter Veronica C. Aravena, and other relatives.
Visitation was held at Rabenhorst East on 11000 Florida Blvd. Monday, September 20th from 6:00pm to 8:00pm.
In lieu of flowers, the family would prefer memorial donations to the "LSU Foundation" for the Jorge L. Aravena Memorial Scholarship, LSU Foundation, 3838 West Lakeshore Drive, Baton Rouge, LA 70808. For more information, please contact Tammy Abshire at 337-501-5696, tvabshire@lsu.edu.
Students are welcome to come together Tuesday at 4:30 p.m., room 1119 Patrick Taylor Hall, to reflect on and celebrate the life of Dr. Jorge Aravena and his contributions to our LSU community. Faculty, staff and alumni are also invited to this time of reflection to remember a wonderful member of our ECE family.