Ahmed A. El-Amawy Retires
19 January 2009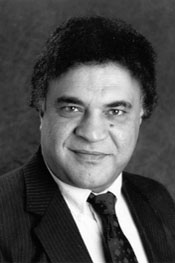 Ahmed A. El-Amawy, Chevron Professor in Electrical and Computer Engineering, has retired effective January 2009 after 25 years of service to the University.
Professor. El-Amawy obtained his Ph.D. in computer engineering from Iowa State University in 1983. His current research interests include optical networks, survivable networks, non-blocking routing, parallel processing, computer architecture, and theoretical aspects of interconnection networks.
Professor El-Amawy invented the first clock distribution scheme for large systems that guarantees constant skew upper bound irrespective of network size. He owns one U.S. patent entitled Optical Packet Switching and is co-owner of four other patents, entitled Microprocessor Based Controller for a Three Phase Bridge Rectifier, Optical Slab Waveguide for Massive, High Speed Interconnects, Optical Crossbar Switch, and Non-Blocking WDM Optical Networks.
During his time at LSU, El-Amawy has served on several program committees of national and international conferences. He served as the program co-chair for the 1997 International Conference on Parallel and Distributed Computing Systems. He also served as an associate editor for the Journal of Computing and Information. El-Amawy is a senior member of the IEEE, the IEEE Computer Society and is a member of the Phi Kappa Phi honor society.
The ECE Department thanks Professor El-Amawy for his service and wishes him well in his retirement.