Les & Dot Broussard Honored for Campaign Gifts Benefiting Basic Sciences and Electrical & Computer Engineering
13 November 2009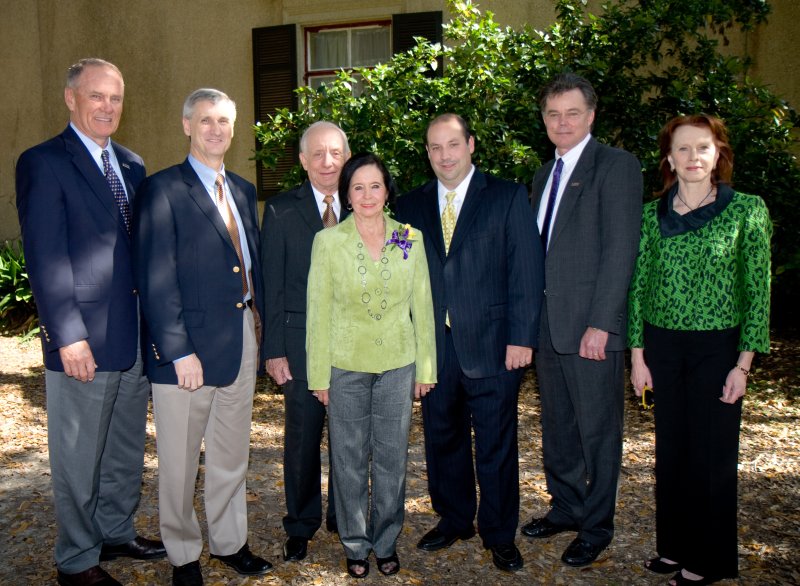 Left to right: LSU Foundation President and CEO, Maj. Gen. William G. Bowdon, Dean Richard Koubek, LSU College of Engineering, Les Broussard, Dot Broussard, Brad Broussard, Dean Kevin R. Carman, LSU College of Basic Sciences, Astrid Merget, LSU Executive Vice Chancellor and Provost.
LSU Electrical Engineering alumnus Les Broussard and his wife, Dot, were honored by the university with a celebratory luncheon Friday, November 13, 2009, recognizing their philanthropic gifts to the Forever LSU Campaign.
The Broussards' generosity benefits students and faculty in the College of Basic Sciences and the Department of Electrical & Computer Engineering. The Broussards established an alumni professorship in Basic Sciences, and a scholarship in Electrical & Computer Engineering, as well as support for the ECE Revitalization Initiative.
"On behalf of the students, faculty and staff, we extend our heartfelt gratitude to Les and Dot. Their gift further underscores the couples' commitment to the future of engineering education," said ECE Interim Chairman Jorge Aravena.
The ECE Revitalization Initiative seeks to improve and enhance programs and facilities in the ECE Department. The initiative provides the financial resources for significant and much-needed upgrading of ECE's laboratories and equipment, as well as important enhancements to current and planned ECE educational programs. "State-of-the-art facilities and modern programs are essential to maintaining outstanding quality ECE graduates," said Aravena.
Les Broussard is a 1958 Electrical Engineering alumnus who retired as plant manager from Mobil's Beaumont facility in 1993. He held various management positions in engineering, maintenance, economics & planning, operations, and plant and refinery management in his 36 years with the company. A Prairieville native, Les met his wife and high school sweetheart, Dot, at Dutchtown High School. The couple celebrated their 52nd year of marriage this year.
"Dot and I are pleased to support LSU's academic mission through the Forever LSU Campaign. I am indebted to LSU for my professional accomplishments and believe that the University's preparation of its graduates is second to none," said Les Broussard, of his longstanding support of LSU. "LSU is a beautiful place where my son and I were prepared to venture out into the real world. The institution's history and campus make me, and should make all graduates proud."
The recipient of the Les and Dot Broussard professorship in Basic Sciences is Brian J. Hales. Dr. Hales is an adjunct professor of biophysical/bioinorganic chemistry. His research focuses on the different roles trace metals play in biology. He has held the professorship since February 2006.
Forever LSU is an historic fund raising effort which will generate more than $750 million in support for LSU by the end of the year 2010, helping LSU maintain its Tier 1 status among American universities. To learn more about the goals of Forever LSU and how to join the campaign for LSU's future, visit www.foreverlsu.org.
For additional information regarding this story, contact Scott Madere, director of public relations for the LSU Foundation, at 225-578-3826 or smadere@lsufoundation.org.