ECE Graduate Purujit Saha named McLaughlin Medalist
17 June 2008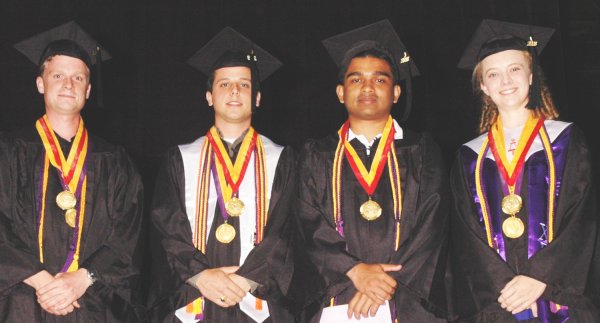 Computer Engineering graduate Purujit Saha, second from right, has been named the Spring 2008 McLaughlin Medal recipient for his academic achievement at LSU. Each semester, the McLaughlin Medal is awarded to College of Engineering students who graduate with the highest grade point average. Saha, graduated in May with a perfect 4.0 GPA and has also received the College of Engineering Alumni Scholarship. He has been on the Chancellor's Honor Roll and is involved in IEEE.
Saha, native of Dhaka, Bangladesh, is joining Microsoft as a Software Development Engineer and plans to one day earn his PhD. He then intends to join one of the national supercomputing facilities.
Saha says the most interesting thing he has done while here at LSU was competing in the IEEExtreme Programming Competition in 2008. Although he graduated at the top of his class, Saha said he could not have done it without the help of many professors. "Dr. Jorge Aravena, my student job supervisor, was extremely helpful when I applied to graduate schools. Also, Mr. John Scalzo, my ECE undergraduate advisor, helped me a lot with my transfer credits," said Saha. His favorite professors, while here at LSU, include Dr. David Koppelman, Dr. Jorge Aravena, Dr. Paul Paskoff and Dr. Benjamin Price.
The Edward McLaughlin Dean's Medal for Excellence was created in 1997 by the Dean's Advisory Council of the College of Engineering, led by Newton B. Thomas, to recognize the outstanding contributions of Dean Edward McLaughlin during his 28 years of service to the University as a professor, researcher, Chemical Engineering Department chairman, and dean.