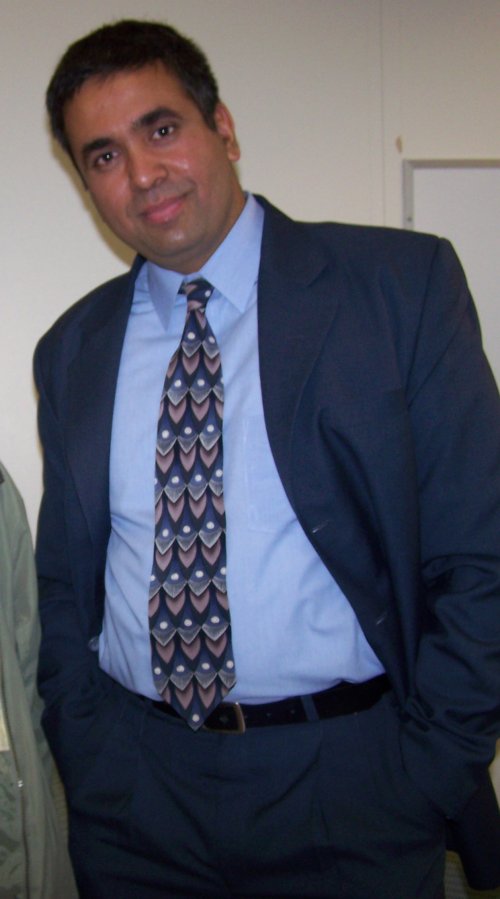 ECE Alumnus Brings Silicon Valley Challenges to LSU
ECE alumnus and co-founder of Anasim Corporation, Mr. Raj Nair, returned to his alma mater to share his experience in Silicon Valley for the benefit of faculty, students and staff in the Department of Electrical & Computer Engineering. "Power Integrity: A Nanoscale VLSI Challenge" was the topic of Nair's October 2nd workshop which sought to review circuit and system techniques applicable to overcoming scaling-related challenges and tools, and verification methodology advances that pertain to power integrity in nanoscale silicon design. Following the workshop, a panel discussion was held by panelists including Nair and ECE faculty Dr. Ashok Srivastava, Dr. Suresh Rai and Dr. Lu Peng.
Nair's experience has focused on improvement of the ways silicon chips function and are constructed. A societal benefit of his research is the reduction in cost in the manufacturing of chips. These benefits are passed on to the consumer making chips, and thus electronics housing these chips, such as cell phones, iPods and computers, more sophisticated and less expensive. Nair credits his success to the preparation he received at LSU. "LSU added tremendous value to my skills. I had an atmosphere at LSU that allowed me the freedom to take what I learned in theory and apply it to practice. My graduate education training in electronics was enhanced by experienced faculty member and major professor, Dr. Jorge Aravena," commented Nair.
A 1995 MSEE graduate, Nair currently serves as an expert consultant in IC power delivery and power integrity. He is co-founder of Anasim Corp. and ComLSI, start-up companies that develop and license patents and silicon intellectual property in advanced power delivery as well as high-speed signaling. Nair also spent seven years with Intel Corporation and has over 22 years experience in VLSI (very large scale integration), electronics system design, manufacturing and management. He holds 40 issued patents, has authored or co-authored numerous conference and journal publications and has applied many of his inventions to commercial patents.