Jorge Aravena Named ECE Interim Chairman
24 June 2008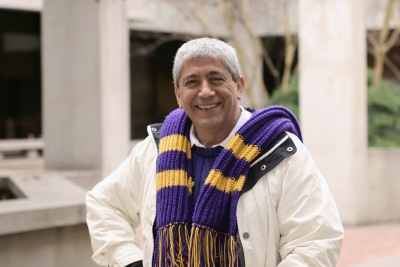 The College of Engineering has announced the appointment of Dr. Jorge L. Aravena, Oskar R. Menton Professor, as interim chairman of the Electrical and Computer Engineering Department. With over 28 years of service to LSU, including a stint as ECE graduate studies advisor, Aravena is poised to lead the Department during this period of transition.
A native of Santiago, Chile, Aravena received an electrical engineering degree from the University of Chile at Santiago, and a PhD in computer, information and control engineering from the University of Michigan, Ann Arbor. He has served on the faculty at the University of Chile at Santiago, the University of Santiago, and was head of the Process Control Group at the University of Concepcion, Chile.
Aravena's research interests include system theory, computer-based control systems, and signal processing, especially application of artificial intelligence tools. Recently, he completed a five-year research project on aircraft safety and is now contributing to a research project in passive location of radio sources; e.g., distressed cell phone user and projects in data compression and intelligent autonomous asset protection.
While he is proud of his research experiences, his greatest joy comes from interacting with students. In 2005, LSU students were asked to identify faculty and members of the campus community who had significantly influenced their undergraduate careers. Professor Aravena was one of six individuals identified and featured through "LSU Highlights" for the impact he has had on undergraduate students. He has also served as the faculty advisor to the IEEE student chapter for many years.
When not tackling current projects or mentoring students, Aravena enjoys the art of photography. "I love to tweak pictures with image editors, do slide shows, albums for my daughters. I am trying to learn video editing and work on the movies that Joyce takes. My dream job is to be a nature photographer for National Geographic," said Aravena. He and wife, Joyce, celebrated their 40th anniversary this year with their two daughters.