ECE Researcher Partners with Bascom Hunter to Develop Next Generation Wireless Communication
13 August 2009
The recent "big switchover" to digital television is now a familiar example of Federal Communications Commission (FCC) regulation as well as the subsequent economic impact of such decisions. A similar situation occurs in wireless communications which forces commercial cellular carriers, such as AT&T and Verizon to invest heavily in purchasing spectrum licenses to meet the growing demand of their customers for mobile services. As opposed to a television station that essentially broadcasts continuously, in wireless communication systems, typically less than 15% of the radio spectrum assigned to a carrier is in use at any given time and place. Thus, an efficient management of the spectrum could, in principle, increase six times the number of users without any additional bandwidth and reduce the cost of services significantly.
Cognitive radio is an emerging and revolutionary concept intended to resolve this problem. A wireless system with cognition capability could intelligently identify sub-bands of the radio spectrum that are currently not in use and assign them to secondary users, without interfering with the primary users.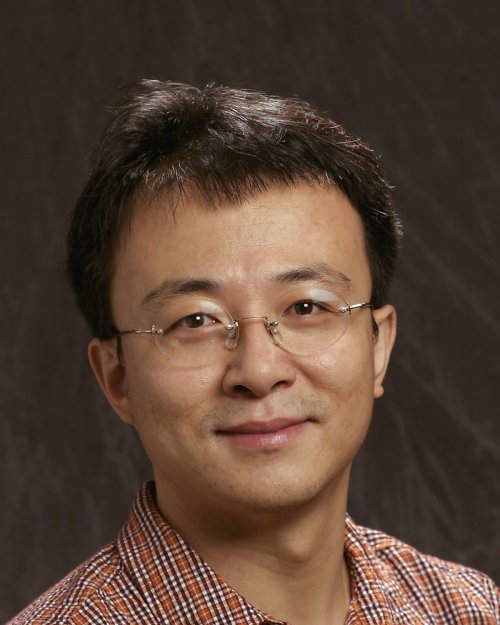 A recent two-year grant awarded to ECE assistant professor Shuangqing Wei (right), and Rajgopal Kannan, associate professor in LSU's Department of Computer Science, along with matching from Bascom Hunter, a local business, will enable the team to transfer their research in network topology and cross-layer optimization to this exciting area and develop techniques to coordinate the sharing of scarce radio spectrum to the largest extent. "Cognitive radio is a promising technology. The generous support from Bascom Hunter will enable us to pursue cutting-edge research in this area, which will further lead to more research and business opportunities, and thus promote our national competitiveness in wireless communications," said Wei. Given the value of radio spectrum, the work has tremendous research and business opportunities, which will further promote LSU's research profile and competitiveness in the field of wireless communications in the nation.
Article by Tammy V. Abshire, LSU College of Engineering, 225-578-5478, tvabshire@lsu.edu