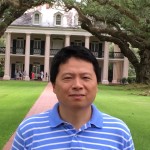 Lu Peng
Gerard L. "Jerry" Rispone Professor
Electrical and Computer Engineering
Louisiana State University
Welcome to my webpage. I received the Bachelor and Master degrees in Computer Science & Engineering from Shanghai Jiaotong University, China. After that, I obtained the Ph.D. degree in Computer Engineering from the University of Florida in Spring 2005. I joined the Electrical and Computer Engineering department at Louisiana State University in August 2005. My research focus on computer architecture, memory hierarchy system, reliability, power efficiency, and big data analytics. I received an ORAU Ralph E. Powe Junior Faculty Enhancement Award in 2007 and a Best Paper Award from IEEE International Conference on Computer Design (processor architecture track) in 2001.
Contact:
102 South Campus Drive
Electrical Engineering Bldg.
Louisiana State University
Baton Rouge, LA 70803
Phone: 225-578-5535
Fax: 225-578-5200
E-mail: lpeng AT lsu DOT edu