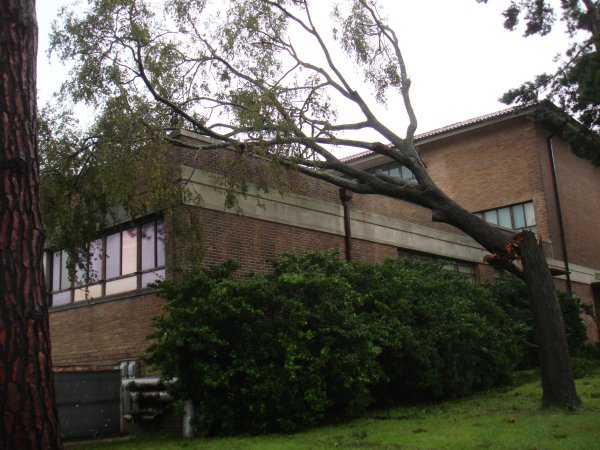 The past couple of weeks have been a challenging time for LSU and the ECE Department in the aftermath of Hurricane Gustav. We want our alumni and long-time supporters to know that, although we sustained some damage, we are resuming our mission of educating tomorrow's engineers.
I have received numerous calls from our alumni and friends inquiring about the status of the ECE Department and its associated buildings and labs. Several of our laboratories sustained water damage, although most of it is minimal. While we were without electrical power for a few days, LSU was able to restore full power on Thursday. With many students, faculty and staff facing a blackout in their homes, the old EE Building became a haven from the punishing Baton Rouge heat.
With regard to our computer infrastructure, I'm pleased to report that our servers never lost connection to the Internet. Our computer manager, Richard Capone, even though he had to evacuate, never lost track of their state. Dr. Koppelman deserves a lot of the credit. He was always on hand to perform the necessary tasks to keep us connected.
This event has made us even more aware of how thinly spread we are in our facilities. A simple broken window or a lack of power back-up could have sent us back for weeks in our teaching and research labs! Fortunately, I'm pleased to report that the ECE faculty and staff have worked around the clock to ensure that we are ready for our students' return.
Finally, many of our friends have asked how they can help in our recovery. Any support given could help ensure that we are always prepared to serve our students. Please consider making a philanthropic donation to your ECE Department. With your help we can become more self-reliant and continue our mission of engineering education.
Forever LSU!
Sincerely,
Jorge Aravena,
Oskar Menton Professor Interim Chairman
P.S. Don't forget to mark your calendar for the College of Engineering's 6th Annual Alumni Reunion on Friday, Sept. 26, 2008 from 6:30 - 8:30 PM in Patrick F. Taylor Hall (Formerly CEBA).